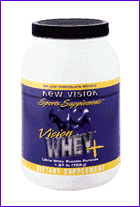 Vision Whey+®
The Highest Quality Protein Available. For serious athletes, whey protein is an invaluable protein source and a smart component to any training diet. Each convenient serving of Deluxe Chocolate Royale Flavor Vision Whey+ power packs 17 grams of the purest protein in each delicious serving.*
Vision Whey+ uses amino acid abundant cross flow, micro-filtration whey protein concentrate, which is considered by many to be the highest quality protein available.
Recommended Dosage: Add 1 scoop to 1/2 cup (4 fl oz) water, milk or juice. Stir briskly to dissolve.
*See side panel of product for nutrition information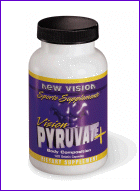 Vision Pyruvate+®
Dietary Supplement
Pyruvate+ (Pie-Ru-vate) is today's most popular new dietary supplements, created for the sports enthusiast.
Recommended Dosage: 2 capsules, 3 to 5 times daily with meals.